Welcome to our boutique bed and breakfast located on a serene country lane nestled on the slopes of Pond Mountain. You will be treated as our personal guests, as you experience the quiet comforts of our quintessential New England property. At Pond Mountain Inn, you'll discover the true meaning of "Welcome home!"
Experience New England at its finest and enjoy our traditional antique reproduction home and property with expansive views. Our home rises from a country dirt-road nestled against lush Pond Mountain with dramatic neighboring views – beyond the great lawn the property border to the north has visible remnants of a long-standing farmers stonewall that leads to our neighbor's beautiful pond, expansive meadows and a distant antique farm house.
Planning A Wedding, Family Reunion or other special Event? Any event at Pond Mountain Inn is exceptional from start to finish; but when the entire property is reserved for a private gathering, it is an unforgettable and very special occasion. The Inn's house party atmosphere is all the richer when guests gather to mark a wedding, a milestone birthday, an anniversary or a family reunion.
About Your Hosts
Your hosts, Kay and Glenn Dunn, want your stay at Pond Mountain Inn to be a memorable, enriching experience. Since assuming ownership of this quintessential Vermont bed and breakfast in October 2013, they have made thoughtful changes that retain the tradition and character of this exact replica of a 1800s Eyebrow Cape. These thoughtful improvements enable them to satisfy their guests' highest standards and to confirm their commitment to extraordinary service and accommodations not normally found outside Dorset or Manchester.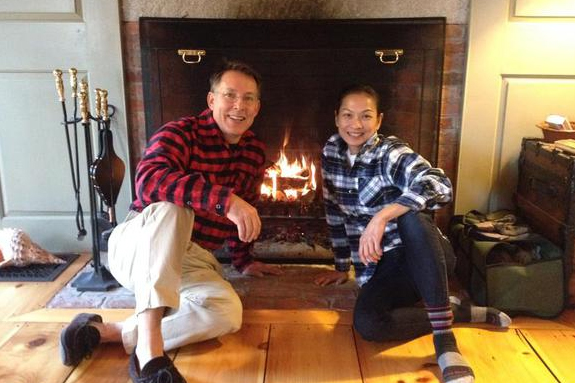 Worldwide travelers for the past twenty years, Kay and Glenn have accumulated over five thousand night stays in hotels spread across five continents. This experience has informed their understanding of the attentive service and distinctive amenities that produce positive customer experiences. Thus, they are dedicated to offering their guests the same kind of service and experience they expect. It is their wish that every guest feels at home from the first moment of arrival to the (hopefully regretful) time of departure.
Glenn and Kay have been happily married for eighteen years, having met on a flight from Manila to Narita, Japan in August 1996. Kay was a Bangkok-based flight attendant for Northwest Airlines, and Glenn worked as an expatriate living in the Philippines. Three months after their first encounter, they held their first date at Shangri-La Hotel's Cheval Blanc Restaurant in Manila. They married in Bangkok, Thailand in 1998 at Kay's family residence and again in New Jersey, United States in 2000.
Your hosts are honored that you have considered their bed and breakfast, and they are firmly committed to creating a relaxing, comfortable stay for you and your family. Their home is truly your home!