From some of the oldest points of interest in the United States to some of the most modern marvels America has to offer; from the quiet and solitude of Mark Twain's small-town life to the excitement and nightlife of America's largest casinos; from the foothills of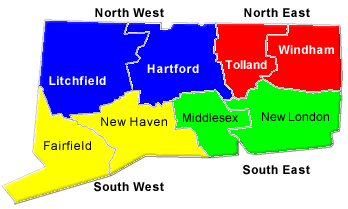 the Appalachias to the very shores on which our ancestors first set foot on the solid ground of the new world – you'll find it all here in Connecticut!
The diversity of Connecticut, one of the original thirteen colonies to declare statehood and independence, is astounding. And being one of our smallest states, it is easy to partake in some of everything the area has to offer in just a short stay, or fill an extended stay with enough different activities to appeal to any member of your family.
Spend the day walking through the woods and your evening at one of the largest casinos in the country, with time out for dinner at a world-class restaurant and an entertainment break with one of the top stars in the world. Spend the day at one of the picturesque beaches and your evening in the coziness of a Bed & Breakfast ensconced in an ancient farmhouse
With each of the major tourist areas within an hour's drive of each other, and each offering truly rural settings anchored by a major – and historical – metropolitan area, Connecticut is the place to go!
Select a region and start planning your Connecticut vacation.