MAINE – Winter, Spring, Summer or Fall, MAINE HAS IT ALL!
The great state of Maine is truly one of the crown jewels of the United States of America – in fact, it sits majestically atop New England and contains the northernmost point of the continental U.S.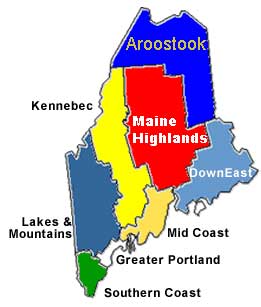 During the winter months, snow and ice enthusiasts can enjoy the countless miles of trails catering to everyone from the novice to the expert in every activity: Downhill and Cross-Country Skiing, Snowshoeing, Snowboarding, Snowmobiling, Ice Skating, River Skating and Winter Hiking. There are dozens of year-round ski resorts, inns and, of course, cozy bed & breakfast establishments at or near all the best locations where you can relax and take the chill off in front of a roaring fire after a day's fun outdoors.
Spring is the time for Whitewater Rafting enthusiasts on the state's major rivers. For the less adventurous, the hiking trails are open and that means great nature spotting and bird watching in the cool spring breezes.
Water is the word for Maine in the Summer! From the beaches to the off-shore islands, from the rivers to the lakes, Maine is a great place for swimming, sailing, canoeing and kayaking. Camping is available from the shoreline to the innermost regions on every level from parks with full hookups and amenities to roughing it in a wilderness setting. Or for a more relaxing experience, stay at one of Maine's great selection of lodgings, from seaside resorts to mountain lodges, from private cabins to major hotels. In addition to hiking and fishing, all of Maine's regions offer a veritable cornucopia of festivals and fairs from seafood to livestock and everything else in between.
In the Fall, Maine offers some of the most spectacular foliage in the United States as well as more of those festivals, many with a harvest flair. Autumn is also a great time for flea markets and antiquing! Be sure to bring home some fresh blueberries and apples and a few lobsters, too!
No matter when you come to Maine, it's an experience you're guaranteed to enjoy. The seafood, the scenery, the water, the mountains – you name it. Wherever and whenever you choose to visit Maine, it's always the right time!
Select a region and start planning your Maine vacation.