We invite you to experience a unique camping village developed with the active family in mind. The family oriented facilities and programs were planned so as to encourage the active participation of both parents and children. Thus, River Bend is referred to as the "One of the Best Family Campgrounds in New England".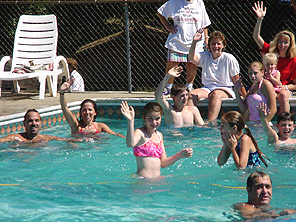 River Bend is a relatively small campground in size, but large in its opportunities for adventure, recreation and fun. River Bend is accented with many interactive type facilities. You can expect to have a different type of vacation when camping with us.
Along with our family atmosphere at River Bend, campers are treated as guests. You can be assured of a camping encounter which allows you to experience an unequaled taste of the great out-of-doors.
There are no strangers at River Bend, only friends you haven't met yet!
Rental Units:
Rental prices are based on a family of 5 (mother, father, and their unmarried children under 19 who live at home). Non-family groups are based on 2 adults. All others are considered guests and are charged an additional fee. For example, two couples would pay the nightly rental fee plus the nightly adult visitor fee per night per adult for the second couple. Extra children under 12 years would be the nightly children visitor fee each per night. All rentals are limited to a maximum of 5 people. Rental fees do not include 12% Connecticut Lodging Tax. All rentals are considered to be "good housekeeping". They are clean when you move in and we expect that they will be cleaned prior to vacating.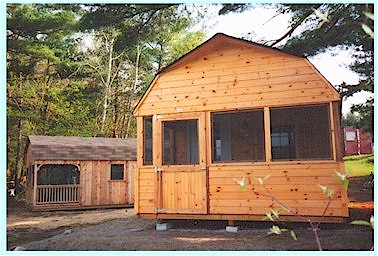 Full Facility Cabins continue to be our most utilized rentals. If you prefer all of the conveniences of home such as; a stand up shower, full bathroom and kitchen, central heat, sleeping loft, bunk beds and pull out couch, then this rental is for you. Couples and families with young children consider the log cabin home. However if you want personal privacy within a rental we suggest the travel trailer (described below) because it has two separate bedrooms. The log cabin is one 11′ x 23′ room with an enclosed bathroom and sleeping loft above the kitchen/bathroom. All cabins are situated on beautiful lots with three in the wooded area and one on the hill in the grassy area overlooking the whole campground.
Deluxe Trailers: You could never be more comfortable while camping than to spend a week in a 40′ travel trailer. They have a full kitchen, bathroom with a shower, living room with a slide out and two bedrooms. They also offer a good size fridge, four burner stove, heat, air conditioning, and a booth style dinette.
Camping Cabins were built for campers who want a roof and four wooden walls around them. Our camping cabins have covered porches, offering nights without insects and a dry environment should it rain. The cabin can sleep 4, has a fridge, table, full bed, bunk beds, and an outside sink.