Dartmouth Skiway offers big-mountain challenges in a family-friendly setting with more than 100 ski-able acres spread over two mountains and enough terrain variety to thrill any ski or snowboarding enthusiast. No matter what your skiing style, the Skiway has something fun for everyone: a 968-foot vertical drop, affordable ski tickets, a full-service day lodge, superb grooming, and exciting terrain features. A special ticket price also means a family can enjoy a weekend of skiing and riding at the Skiway for one great price.
Dartmouth Skiway Tradition
Not only is the Skiway a family-friendly ski area, the Skiway has a long and storied tradition as the home of nearly 100 Dartmouth All-Americans and more than 30 national champions, many of whom now bring their families here to ski. Dartmouth Skiway provides challenges for all skiing and riding abilities.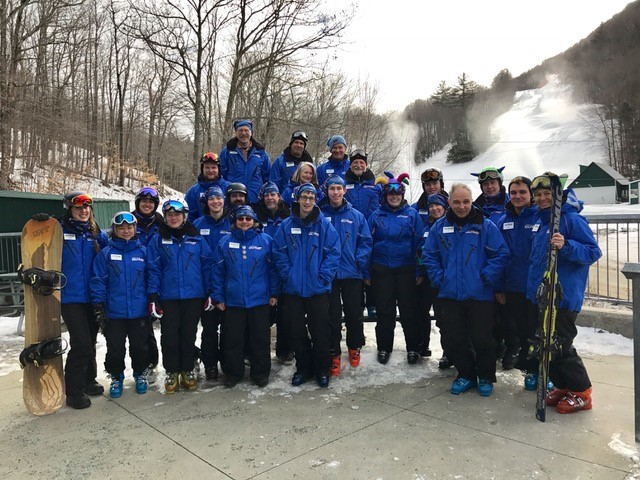 Snow Sports School
The Dartmouth Skiway offers challenge and enjoyment to skiers and riders from beginner to expert. Our ski and snowboard school directed by Sean Norton has a highly experienced group of instructors who make it easy to improve your skills and still have fun on the slopes. They offer instruction for all levels, several times each day. Our beginner's slope and lifts are all designed especially for first time skiers and snowboarders. With gentle grades and easy to ride magic carpet, learning to ski and ride at the Skiway has never been easier.
With cathedral ceilings and beautiful timber construction, the McLane Family Lodge is the perfect setting for warming up between runs. The Lodge is also a great place to host weddings, receptions, reunions, and parties. Rental opportunities are available mid-April through mid-November.
McLane Family Lodge
LODGE RENTAL INFORMATION
During the ski season, from mid-November through mid-April, the Lodge is unavailable for events.
Reservations are accepted up to one year in advance.
The rental fee for the Lodge is $2,000.00. Half of the fee is required to reserve the space.
Capacity for a sit-down dinner is approximately 200 people.
The Lodge has 200 folding padded chairs and 28 eight-foot maple tables available for use.
The Lodge is available for use until 11:00 p.m. Set-up or clean-up may be possible the day preceding and/or following an event, depending on the Lodge schedule.