Cape Ann Motor Inn is one of the only beach front hotels in Gloucester, Massachusetts. We are conveniently located just 30 miles north of Boston. We are directly on the sands of Long Beach located on the Gloucester/Rockport line. All of our guest rooms overlook the ocean, with a beautiful view of Thacher Island and its twin lighthouses, just off the coast of Rockport. The sunrises here are unforgettable. We are open all year, so you can enjoy a great Gloucester hotel beachfront vacation, or quiet off-season getaway here on Cape Ann . We also offer rooms with fully equipped efficiencies and a beautiful Honeymoon Suite.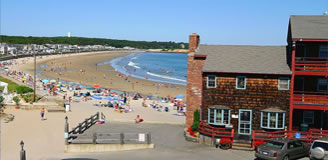 WE ARE OPEN ALL YEAR! We are one of the most popular hotels in Gloucester because of our breathtaking view and our reasonable rates. Children age 5 and under stay free. Long Beach is a safe and fun beach for children of any age.
Enjoy complimentary pastries and coffee in our lobby each morning. You can search our Nearby Attractions and restaurants here on our guest computer, or use our free Wifi in your room.
We have added a gazebo and pleasant garden area to our grounds. Guests enjoy reading and relaxing in this shady area. Call for availability 978-281-2900.