Here's what some of the guests staying at the Blue Hill Inn have said about their visits:"Best blueberry pancakes and scones ever!" "We feel so lucky to have discovered Blue Hill and the Blue Hill Inn, both of which are idyllic. Thank you for a wonderful stay–it was perfect in every way." "What makes the inn a standout is the level of service and hospitality."
At the Blue Hill Inn, individualized guest attention is the first priority. Innkeeper Sarah Pebworth and the staff of the inn will make suggestions, assist with itineraries, help with directions, and make reservations. They are familiar with the area and can direct guests to great boating, live music, beautiful picnic spots, husband-friendly shopping, and delicious lobster rolls.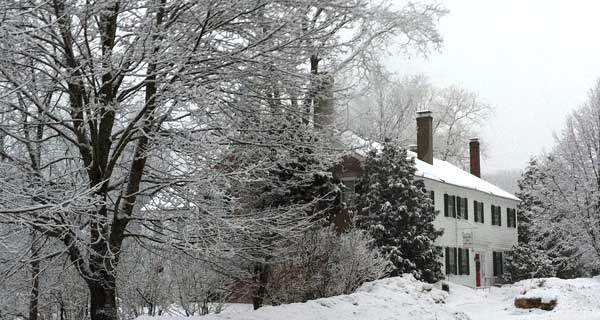 Complimentary breakfasts at the Blue Hill Inn are designed with guests in mind. Choices range from vacation decadent to watching one's waistline. Special menus to accommodate individual food allergies or restrictions are easily arranged. The staff at the inn are passionate about working with local farmers, fishermen, and purveyors.
"The inn is very old and classic, in great condition and decorated beautifully, with very nice grounds."
Located on an acre of land in the center of the village of Blue Hill and a block from the head of Blue Hill Bay, the inn, built in 1835, is on the National Register of Historic Places. Shade trees, a perennial garden, and a small grove of fruit trees enhance the grounds.
"Your inn is elegant and at the same time warm and comfortable."
A Federal period building, the Blue Hill Inn has eleven guest rooms, a sun-filled dining room, and two comfortable parlors. It retains many of its original features, including clapboards, nine over six windows, wide pumpkin pine floor boards, and six fireplaces. Adjacent to the inn is the recently developed Cape House, with two larger, more modern suites with kitchens and televisions. The Suite features a private deck shaded by a willow tree and a full kitchen. The Studio offers a kitchenette.
The Blue Hill Inn Environmental Policy
The Blue Hill Inn enthusiastically supports the developing concepts of eco-tourism, sustainable triple bottom line business practices, and green lodging practices. The inn has been awarded Maine's Environmental Leader and Trip Advisor's Green Leader designation in recognition of efforts made at the inn, including using environmentally friendly cleaning supplies and light bulbs, purchasing organic food and composting kitchen scraps, and recycling all waste possible.